chicago, baby
on my little business trip with our general manager in attendance, we did chicago up RIGHT. it was all about the reservations-only dinners, executive style. three nights of dinners: a tavola (northern italian, ukrainian village), frontera grill (rick bayless' casual mex joint), and redlight (asian fusion).
A Tavola
2148 W. Chicago Ave.
773-276-7567
$15-$25 entrees


first off, a tavola provided the best meal i have ever ever had (but then again, i eat cheap grub and not often do i go to pricier joints). the service was attentive, friendly, personal but not overly involved. the setting was intimate with fresh white linens and minimalist taupe walls and black and white photos as a gallery-like decor. we opened with four appetizers for five people, which included thinly-sliced dried cured ham with cheese, light salad with fresh greens and vinagrette, grilled vegetables, and grilled portobello. they ingredients didn't sound exotic or surprising but the ingredients themselves and the judiciousness of the seasoning were impeccable. exceedingly fresh.
we had two pastas as the first course (to share). the gnocchi was forgetful (cinnamon and nutmeg spiced). the lamb ragout(sp?) parpadelle(sp? wider than linguine) was SO. GOOD. see below.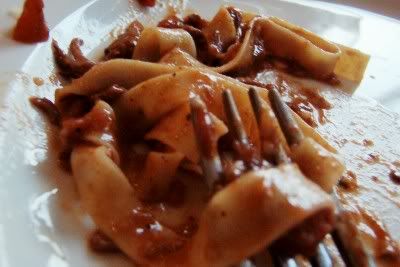 My dish was the braised beef short ribs on a bed of saffron risotto (above). it was beautifully cooked, meat just falling apart. it was definitely done right. perfectly seasoned with the gelatin evenly distributed throughout the meat, giving just the perfect mouthfeel. yum. i finished every luscious bite.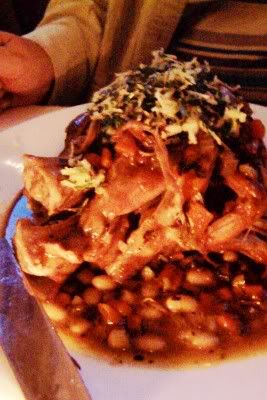 my general manager had the braised pork shank over a bed of cannellini beans and topped with a wasabi slaw. again, the braising was simply perfect with the pork just perfectly tender, moist and gelatinous. the portion was large with the bones still in. look at this lovely beast.
to finish, the pana cotta was the best of the desserts that we had. luscious with a light caramel sauce, the white creamy confection was perfect.
Frontera Grill
445 N Clark St
Chicago, IL 60610
(312) 661-1434
$15-$30 entrees
The Frontera Grill is the creation of Rick Bayless, a "celebrity chef" known for his academic knowledge of regional mexican ingredients and cuisine. He's the guy that looks like a middle-aged white guy with salt and pepper hair and nerdy glasses. I always saw him on television, talking about making the perfect mole and all the ingredients required while quiet portly mexican women bare knuckle peppers and other fare over stone. I wasn't expecting much and for the most part, the food was "meh" to me.
but the blood-orange margaritas are a can't miss!! yum. not too tart and plenty of tequila kick.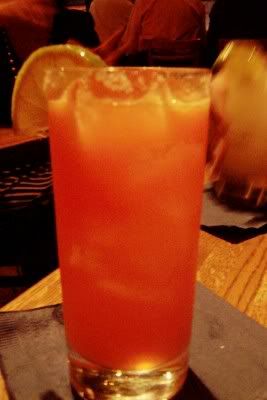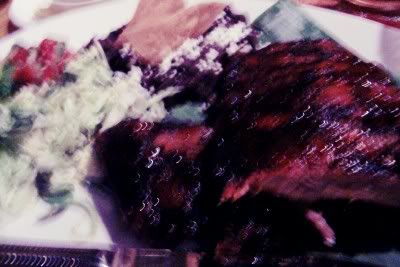 my dish was the special of the day, kinda dry honey and habanero glazed babybackribs. even dry ribs are good but not the juicy fall of the bone kind that i like. but apparently chicago style is a little tough. oh well.
Gold Coast Dogs
159 N Wabash Ave
Chicago, IL 60601-3605
(312) 917-1677
two chicago dog special with thick fries and a drink only $5.95!
Couldn't leave Chicago without gorging myself with some Chicago dogs. They are much loved by the locals. A weiner on (i got it charred, not boiled) on a soft poppy seed bun, sprinkled with celery salt, topped with a wedge of sweet and tangy pickle, slices of tomato, raw chopped onions, small spicy peppers and the atomic green relish that i forget what they call. SOOOO GOOD!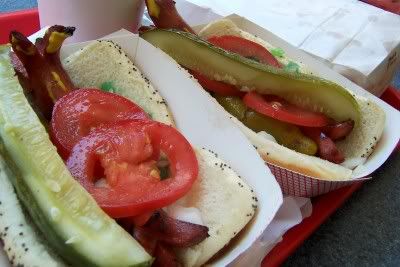 the italian beef sandwiches were just like french dip sandwiches that you added peppers and stuff too. forgettable, especially at gold coast dogs. i heard you should go elsewhere for this sandwich...but we needed to try it anyway. i had a half of that with a friend and she had the other dog in the two-dog special. i shoulda stuck with eating BOTH dogs. ;-P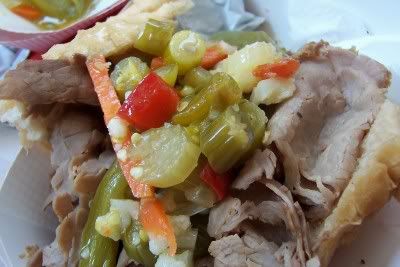 Red Light
820 W Randolph St
Chicago, IL 60607-2308
(312) 733-8880
$15-$30 entrees
Pan-Asian fusion/eclectic. meh. 'nuff said.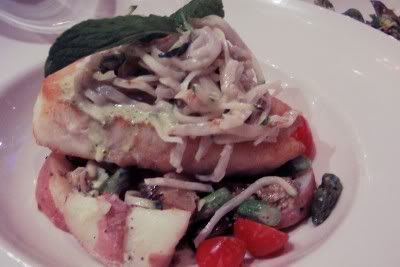 seared halibut steak over light potatoes, asparagus and tomatoes, opped with some kind of slaw.
the only reason you go is if you want to impress non-asian friends with the theatrical decor and the large bronze boddhisvatta greeting you at the door.