Chibcha Colombian Restaurant on Sunset
Chibcha Restaurant: Fine Colombian Food has officially been added to my list of easy-go-to neighborhood eateries for good comfort food grub a la Colombia. Located in a nondescript Sunset Blvd strip mall, the restaurant is on the north side, just at Benton Way. You'll be able to find plenty of starchy and meaty side dishes, breakfast options, meats, soups, chicken, seafood and deserts. Colombian drinks, imported beers and a variety of juices that I have yet to translate round out the menu.
THE FOOD
Good comfort food from Colombia at reasonable prices (entrees for 9 - 13 bucks). Every item tasting fresh, homemade and not overlyseasoned (read: salty). Thanks to their history and geographical location, we can thank them for their slightly caribbean twist on South American favorites. Not only will you get your Lomo Saltados and Bistek a la Criolla (Top Sirloin), you'll have a choice of sides that include fried plaintains, special corn cakes called Arepas, fried green plaintains (that are less sweet, slightly salty and chewier), chicharones (fried pork skin), morcilla arepa (or blood sausage), yuca (fried cassava root, like a starchier thicker french fry), and empanadas (yummy meat pies). I have yet to try the corn cakes but the plaintains are perfect, not overly mushy and overcooked like other places. The green plaintains are extremely satisfying for anyone craving carbs. Even better, the empanadas are unlike the wheat flour based doughs that I was accustomed to eating in Chile or Argentina (see above). They are deep fried with a crusty corn-based crust, filled with a tomato, potato, and meat center. YUM. At $1.25 for each empanada, it is well worth getting a couple to start off your meal.
What have I tried in my two visits thus far?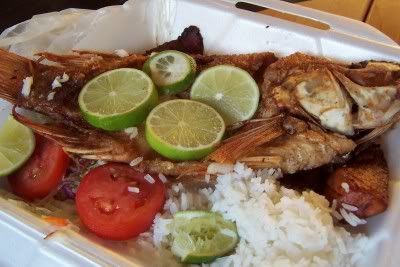 My friend ordered the Mojarra Roja Frita (Fried Fish) with salted white rice, friend plaintains and an incidental salad slaw (see right). At $10.95, my dining buddy was quite pleased with the meaty thickness of the fish (much meatier than the fried crusty skin only mojarra frita you get from our local MacArthur Park Pescado Mojado). You can easily share the fish for two for a light lunch or have a nice hearty dinner and eat it all yourself.
I had a half order of the Ajiaco Santafereno for $6.95 this same evening with the two empanadas thrown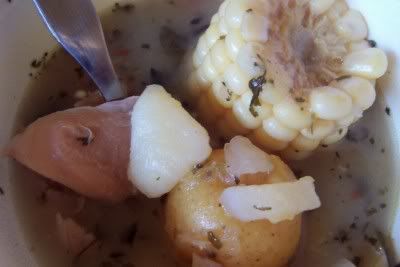 in for variety (see left). The Ajiaco is a hearty chicken soup that made me feel like my cold went away. Despite the "half size" portion, it was still ample enough to feel like a meal. With the lovely, not-too-salty broth, I had a few thick pieces of yummy stewed dark meat chicken, a few baby potatoes the color of yam with a buttery texture, and a sweet chunk of corn on the cob. You had the option to add in a sour cream-like substance or some large briney capers, but the soup stood well enough alone.
The first visit brought me to a GREAT dish that will be a regular in my rotation of local dining options. It's called the Bandeja Paisa. At $10.95, it is well worth the price for the generous slice and a half of carne asada (well seasoned, not too tough), dense and flavorful chunk of chorizo, huge crown of deep-fried pork skin (chicharon), side of beans, rice, fried plaintains, fried green plaintain, all topped with an over-easy fried egg. Once I get a photo, I'm definitely adding this to the must-have over-easy egg meals in L.A.
THE SERVICE
Service is extremely personal and friendly. Upon my second visit, the waiter remembered what I ordered. He actually split the bill for each of the four diners at our table without our request when I first ate there. His recommendation of the Bandeja Paisa was right on target as something that as the more uniquely colombian dish (with the Fritanga not far behind, a huge $16.95 platter of little pieces of pork riblets, beef, pork skin, sausauge, fried yucca and other such items used typically by revelers to wash down beers and alcohol). Patricia, another employee, even gave us a take home menu today and wrote her personal cell number on top just in case we couldn't communicate over the phone in Spanish when we call in during the more monolingual work shifts. But be mindful, they make everything to order (no freezers) so it takes a reasonable wait for the food to get to the table. I suggest calling ahead if ordering to-go.
LUNCH TIP
They have daily lunch specials at around 6 dollars. You can get a fair portioned meal such as arroz con pollo or slightly smaller plates of their dinner dishes.
Chibcha Colombian Restaurant
2617/2619 W Sunset Blvd
Los Angeles, CA 90026
213-483-8072
call Patricia's cell if the person answering the regular number doesn't speak English: 323-497-0666